---
December 2021 ended the year on a busy note for garment workers in Bangladesh. As we reported in our November update a few weeks ago, the autumn of 2021 was a far busier season than any other in 2021, and also busier than the autumn of 2020 (with the typical worker spending almost 25 more hours per month in their factory from the period September to December 2021 than September to December 2020).
Garment workers also continued to receive COVID-19 vaccination shots in December, and they reported some of the lowest household illness rates in the past 21 months. Food security rates also seemed to peak last month. Let's hope that these good notes continue into 2022.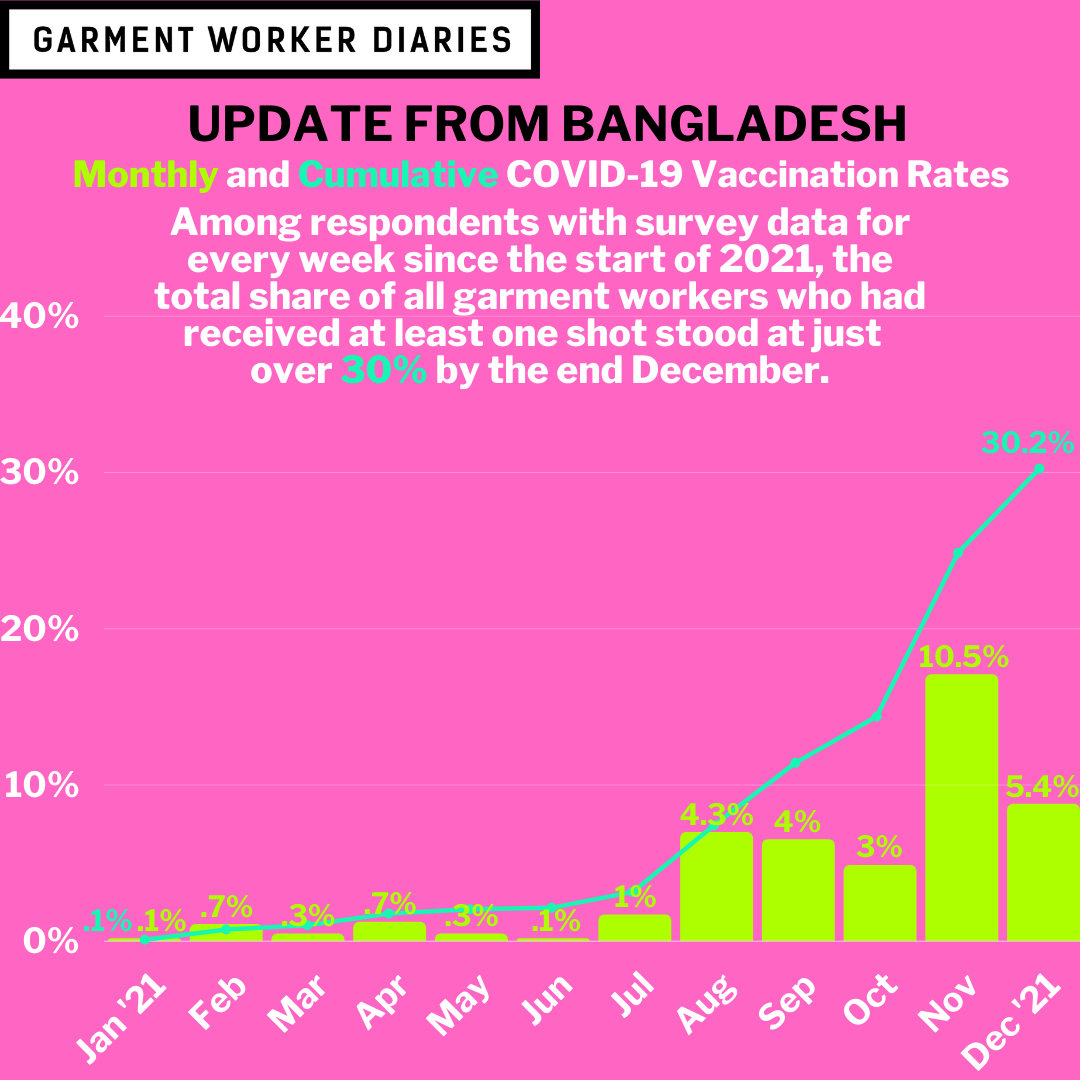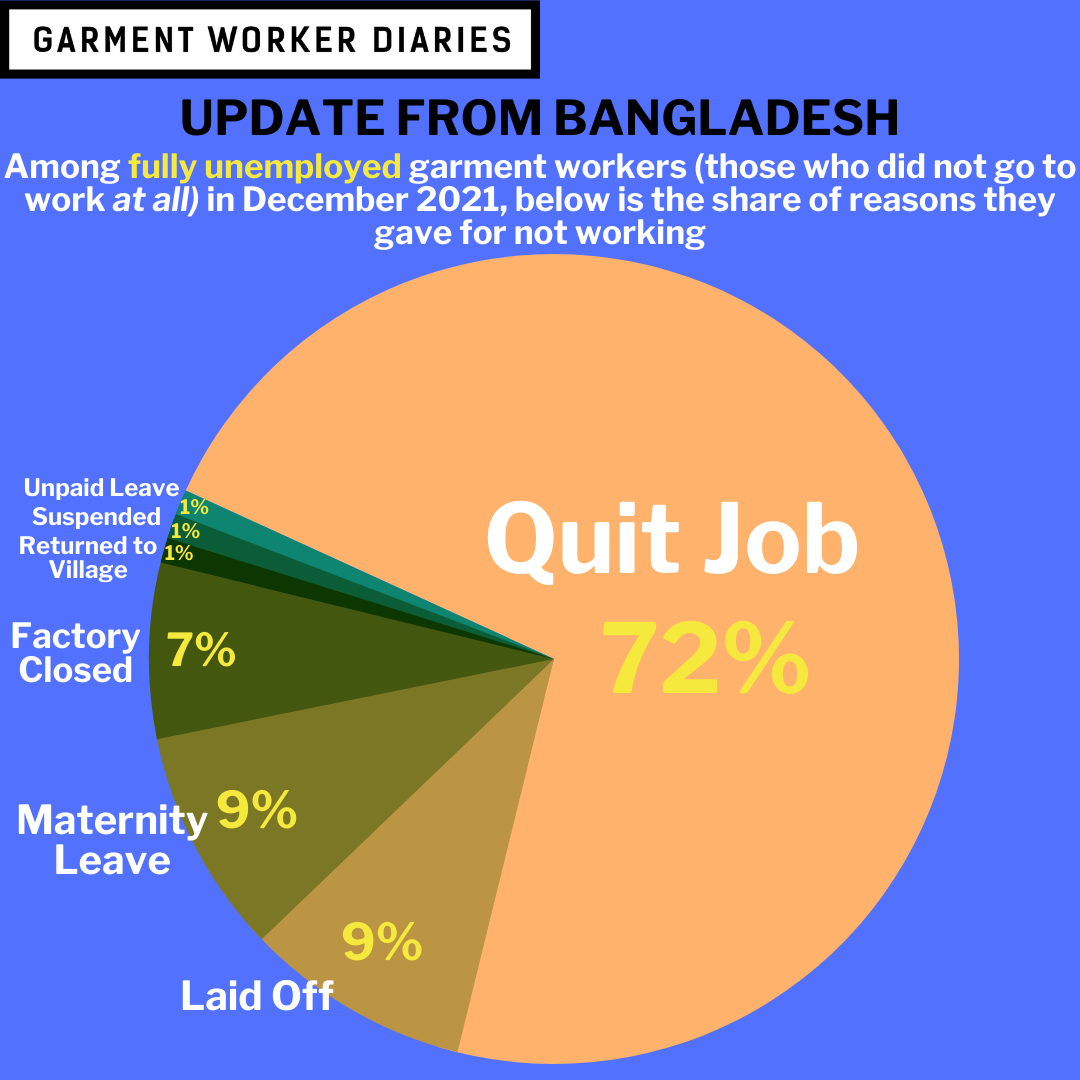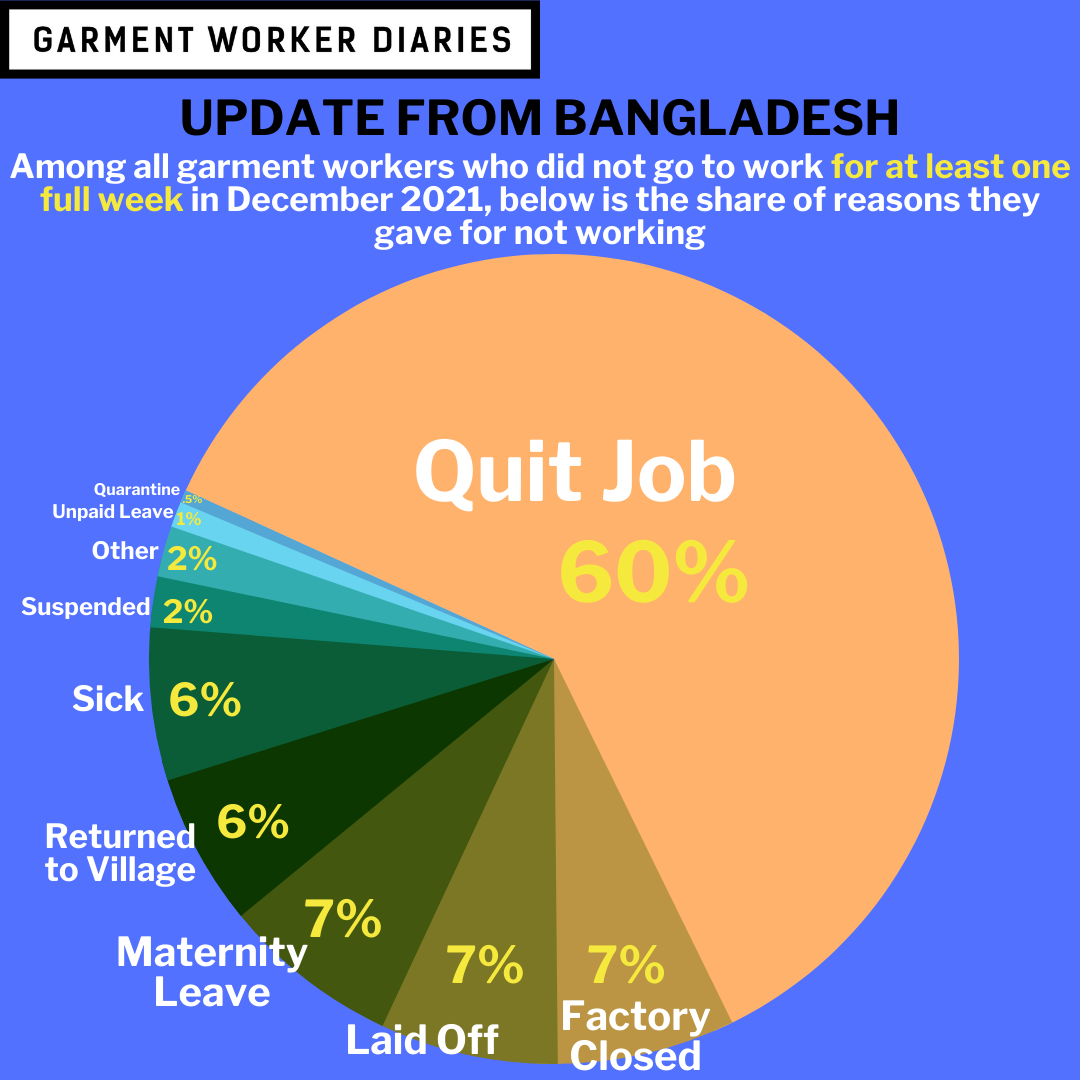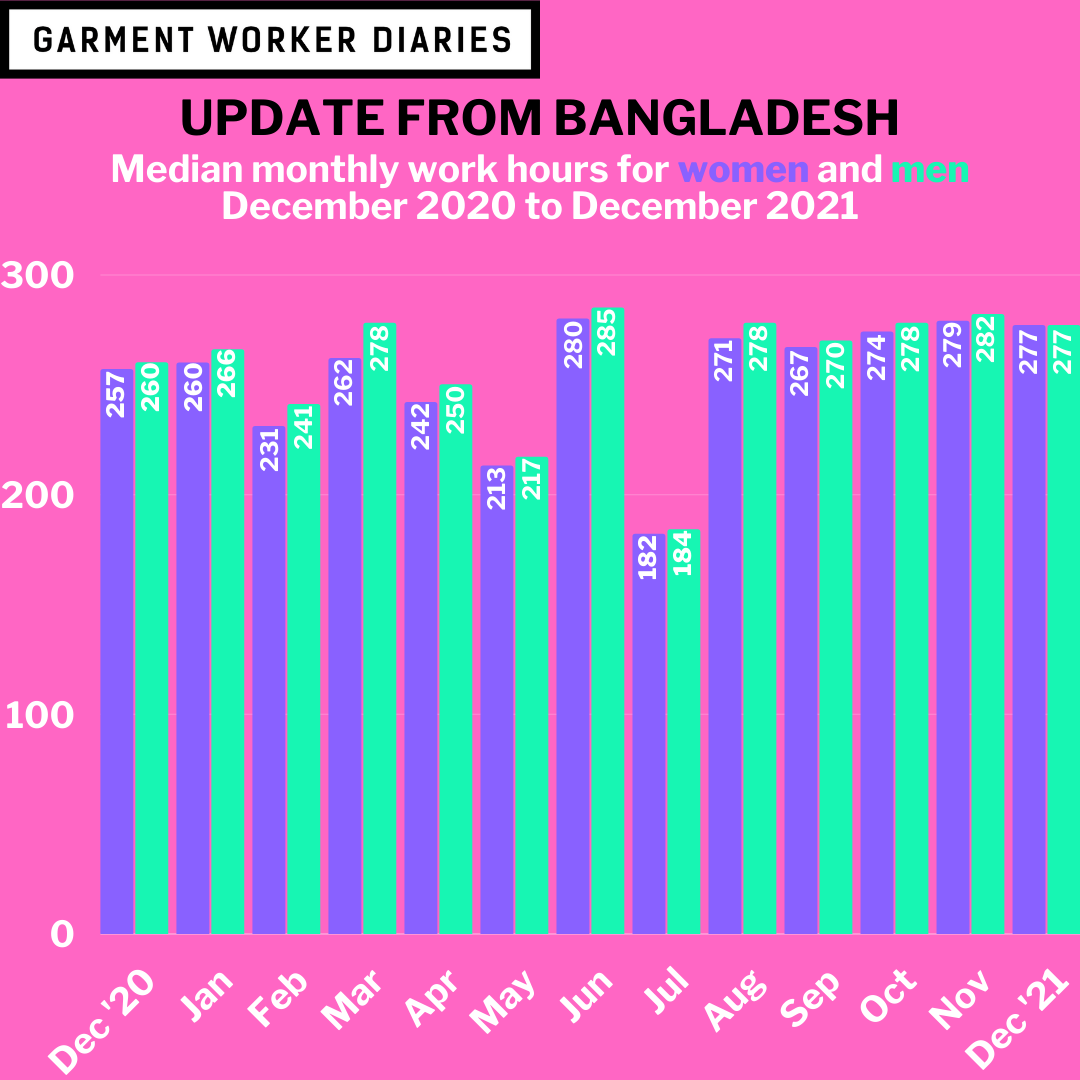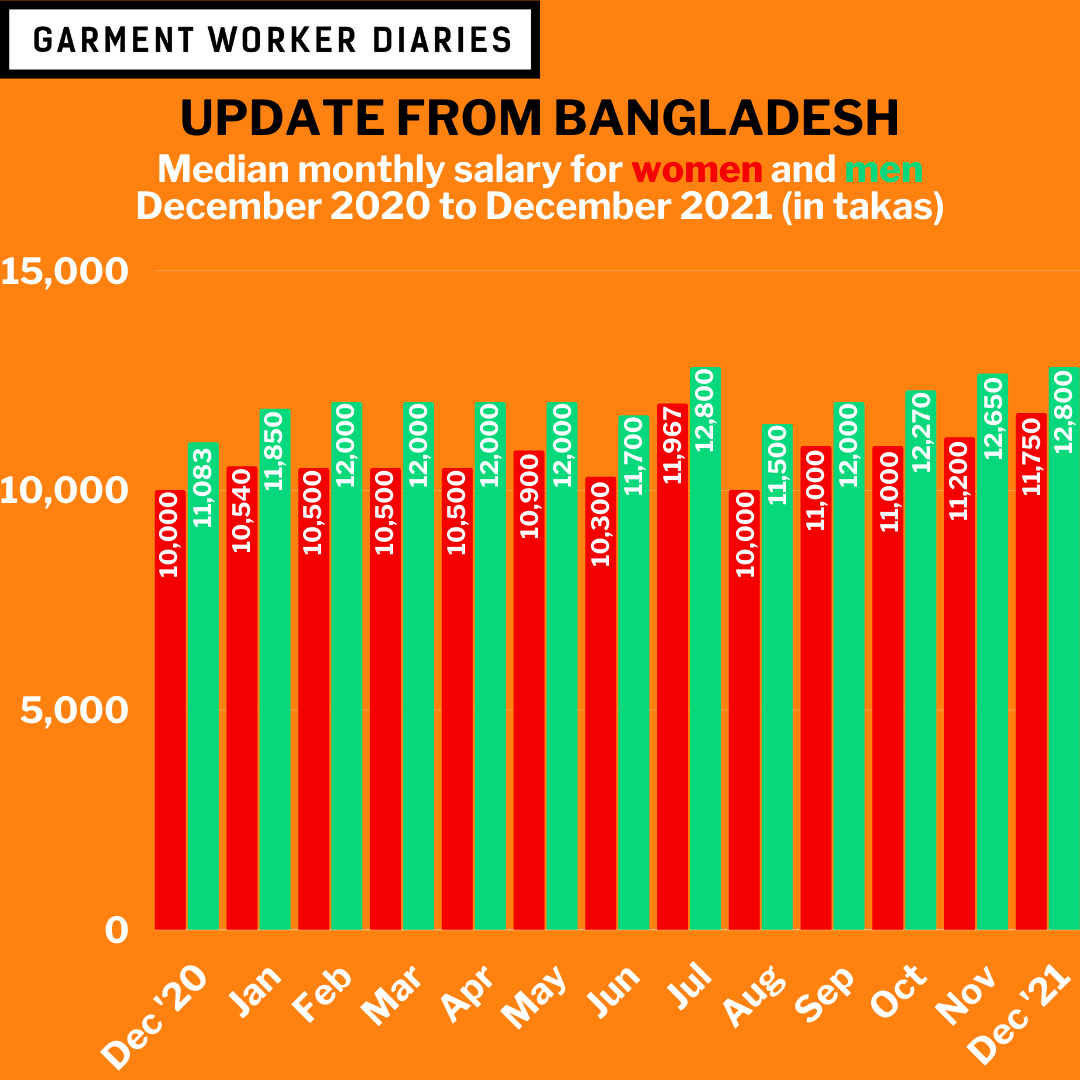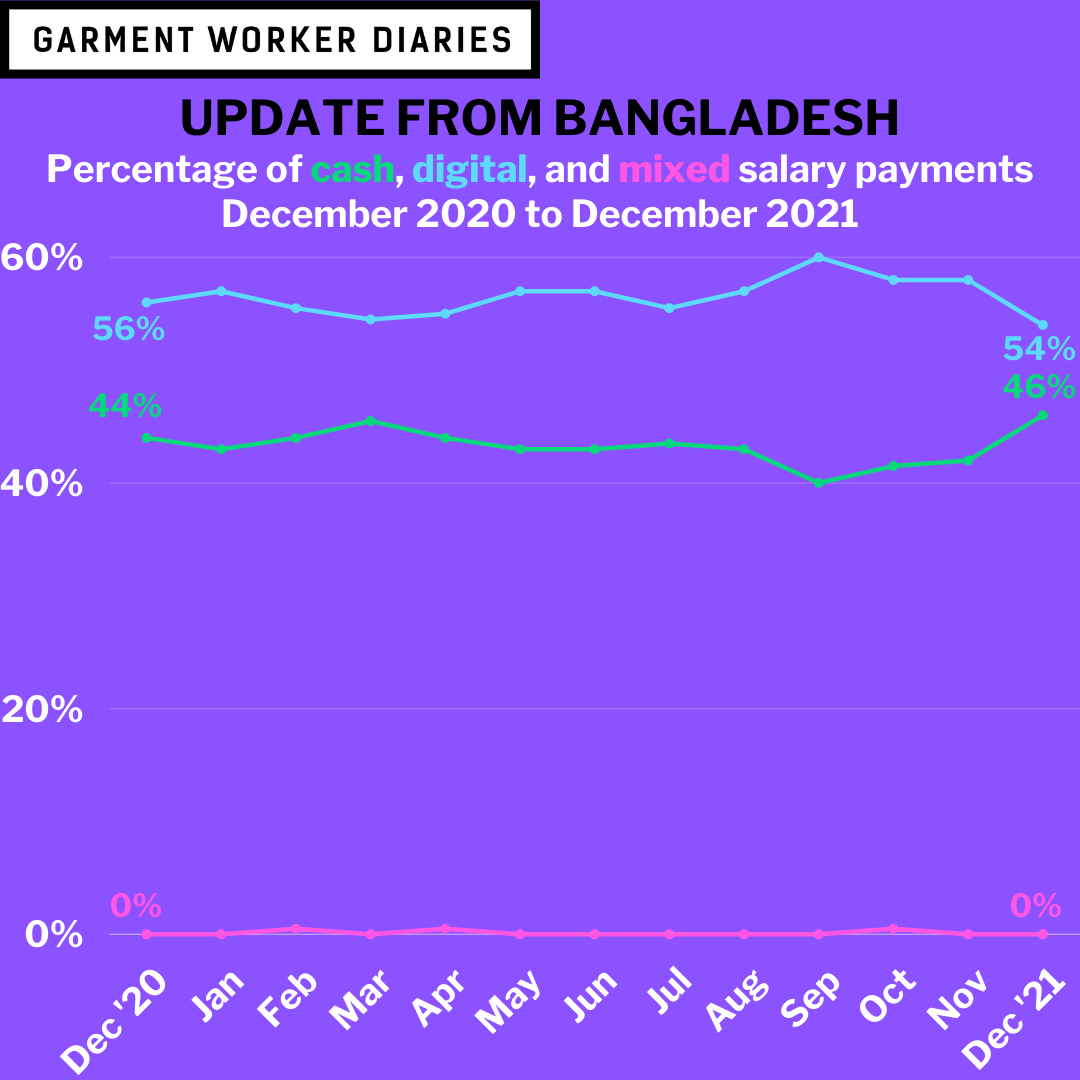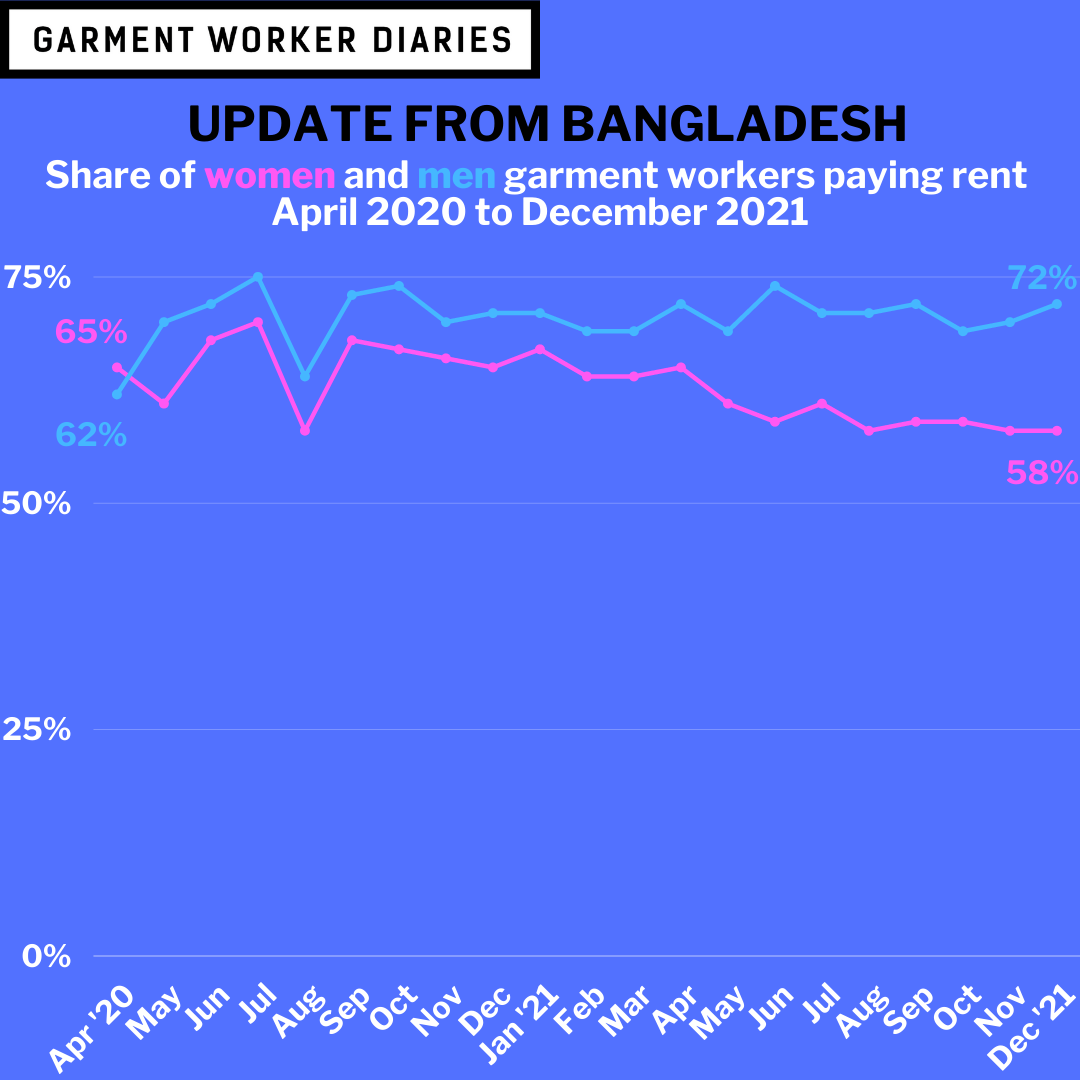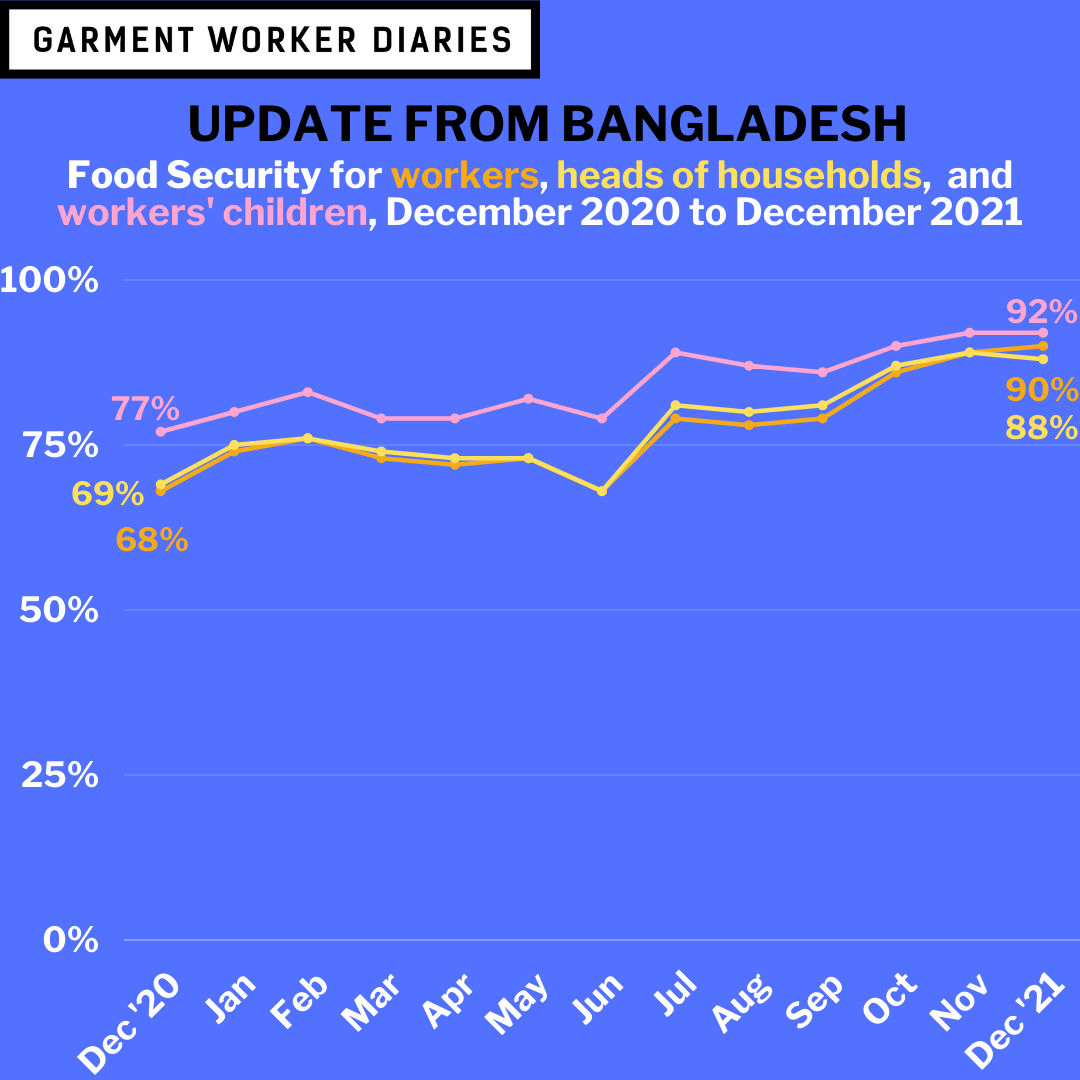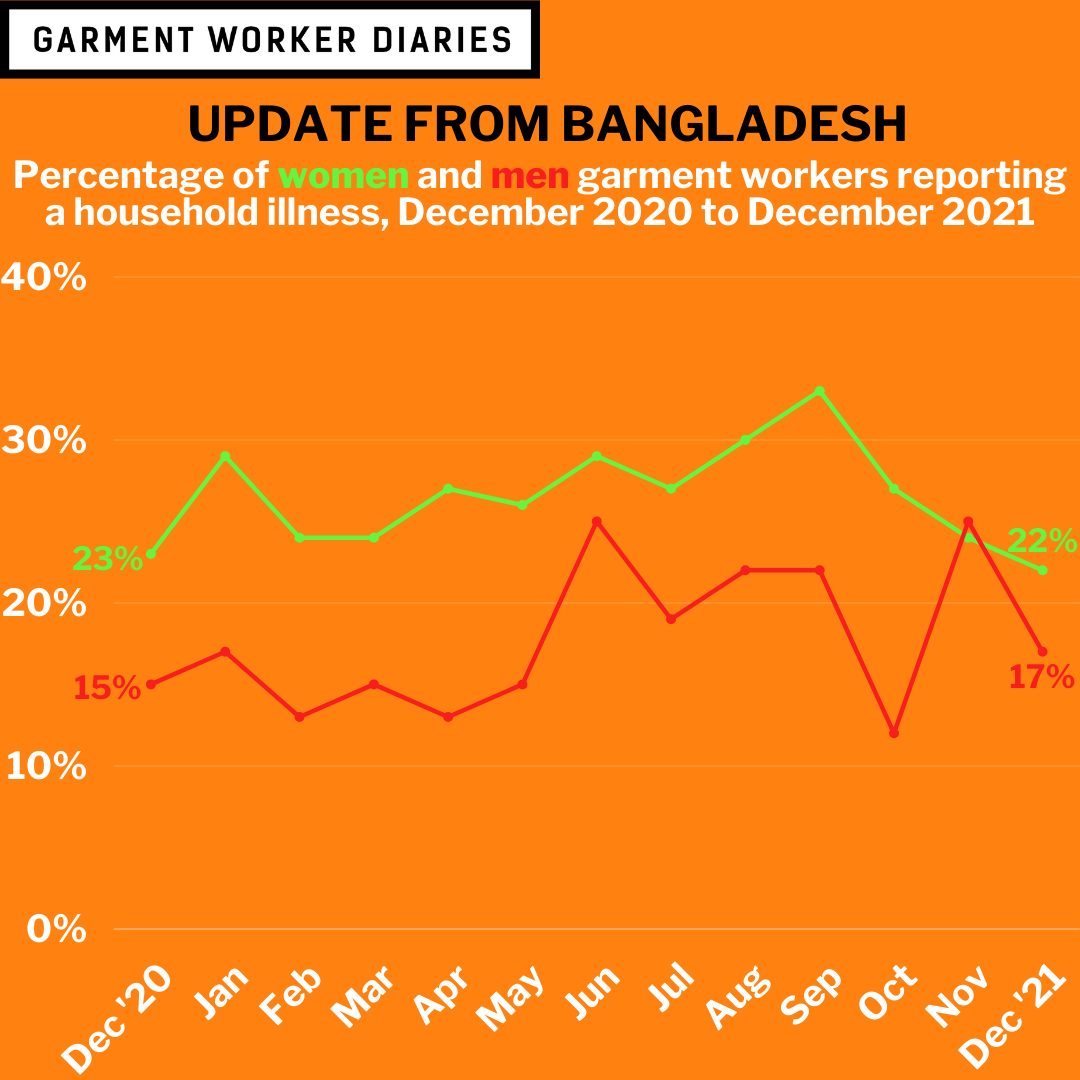 COVID-19 Vaccination Update
Among respondents who have not missed one week of data collection since January 2021, the monthly share of workers who have received a COVID-19 vaccination shot rose to just over 30%, after an additional 5.4% of workers reported receiving a shot in December. This growth rate was lower than in November, when about 10.5% of workers received a shot. If this sub-set of workers continued to receive a COVID-19 vaccination shot at December's rate, it would be sometime around December 2022 that all of these workers would have received at least one shot.
Employment
83% of all garment workers went to work in December 2021, the same percentage as in November (including 81% of women and 91% of men, again the exact same percentages as in November). And for the first time in the study since the onset of COVID-19 the typical female and male garment worker worked the exact same number of hours in a month, 277.
Among respondents who were completely unemployed (meaning they did not go to work at all during December), the share of respondents who listed "quit" as the reason for not going to work rose from 68% in November to 72% in December. Other reasons for not going to work were offered by respondents in similar proportions compared to previous months, although the share of respondents who said their factory was closed dropped from 10% in November to 7% in December.
Among respondents who did go to work in December but also missed at least one full week of work or more, the shares of reasons given for not working were again similar to previous months, with having quit one's job listed by 60% of respondents (and still by far the most common response). Factory closures were reported a bit less in December than in November, and one respondent in December told us that they couldn't go to work because they were home quarantining (in November the quarantine count was zero).
Salary Payments
82% of garment workers (including 79% of women and 89% of men) received a salary payment in December 2021. Typical monthly earnings rose slightly in December compared to November: Tk. 12,000 for all respondents and Tk. 11,750 and Tk. 12,800 for women and men, respectively.
The shares of salary payments that were digital and cash-based edged a little closer in December, to 54% and 46%, respectively, which is about as close to parity the two payment systems have been since the rapid pandemic-induced wage digitization in the spring of 2020.
Digital Payments and Financial Transactions
As usual, the majority of financial transactions in December 2021 were conducted primarily in cash, except (as per usual) money transfers workers sent outside the household. We'll remark on this a bit more below.
A bit more than a third of all respondents sent an intra-household transfer, received an intra-household transfer, took a loan and repaid a loan in December 2021, which is about the share we've seen month-over-month with these types of financial transactions since April 2020 (with the exception being loan repayments: in both 2020 and 2021 a slightly higher share of workers made loan repayments between September and January than between February and August).
4% of respondents gave a loan to someone else, which is again about what we've seen over the past 21 months (with the exception being the months immediately following the pandemic, when in both May and June 2020 as high a share as 9% of workers gave a loan to someone else).
A very small percentage of respondents, around 5%, received a money transfer from someone outside the household (different from both an intra-household transfer and a loan, the second of which must be paid back). This is about the same share of respondents who have received a money transfer in each of the last 21 months, with the exception being the months surrounding one of the bi-annual Eid cycles.
On the giving end, 17% of respondents sent a money transfer to someone outside of their household in December 2021. This is very in keeping with all months stretching back to April 2020, with again the exception being Eid months when, for example, in May 2021 43% of garment workers sent a money transfer. As noted above, more money transfers were sent digitally than in cash in December 2021. However, the share of transfers sent that were completely digital dipped below 50% last month to 48%. This has happened only a few times since April 2020, usually during Eid, when garment workers visit friends and family and hand them cash in person rather than sending it through a money transfer service.
In terms of savings and withdrawals, a little over half of all respondents saved in December 2021, and about four-fifths made a withdrawal, which is a typical monthly share for both types of transactions. We might also note here that the share of savings that were deposited into home savings—by definition a cash transaction—was at its highest since April 2020 (86% of all savings deposits were into home savings).
Finally, the monthly rent payment gap between women and men continued to widen in December, as 58% of women and 72% of men reported paying rent that month (62% of garment workers overall).
Food Security and Household Illness Update
Food security rates remained almost exactly the same in December 2021 as in November, meaning garment workers are still reporting to us the best food security rates in the past 21 months (90% of workers, 88% of heads of households, and 92% of workers' children were food secure in December).
The overall share of workers who reported a household illness to us last month fell to its lowest point yet since February 2021: 21% of all workers (including 22% of women and 17% of men) reported a household illness in December 2021. This does mean that the gender role reversal we saw in November has been undone, and a higher proportion of women than men are again reporting a household illness.
The data are drawn from interviews with about 1,300 workers interviewed weekly from April 2020 to December 2021. The number of worker responses in a particular month varies depending on interview participation rates throughout the month but were never below 1,206 during this period. These workers are employed in factories spread across the five main industrial areas of Bangladesh (Chittagong, Dhaka City, Gazipur, Narayanganj, and Savar). Just over three-quarters of the working respondents are women, roughly representative of workers in the sector as a whole.