---
In our last monthly update, the data confirmed a pattern we have often seen which is that more work hours do not always translate to much more pay for the garment workers in Bangladesh. This week we will provide a March 2022 update on the core data from our respondents in Bangladesh as we check whether this pattern still holds, as well as provide more updates on the study through the end of March 2022.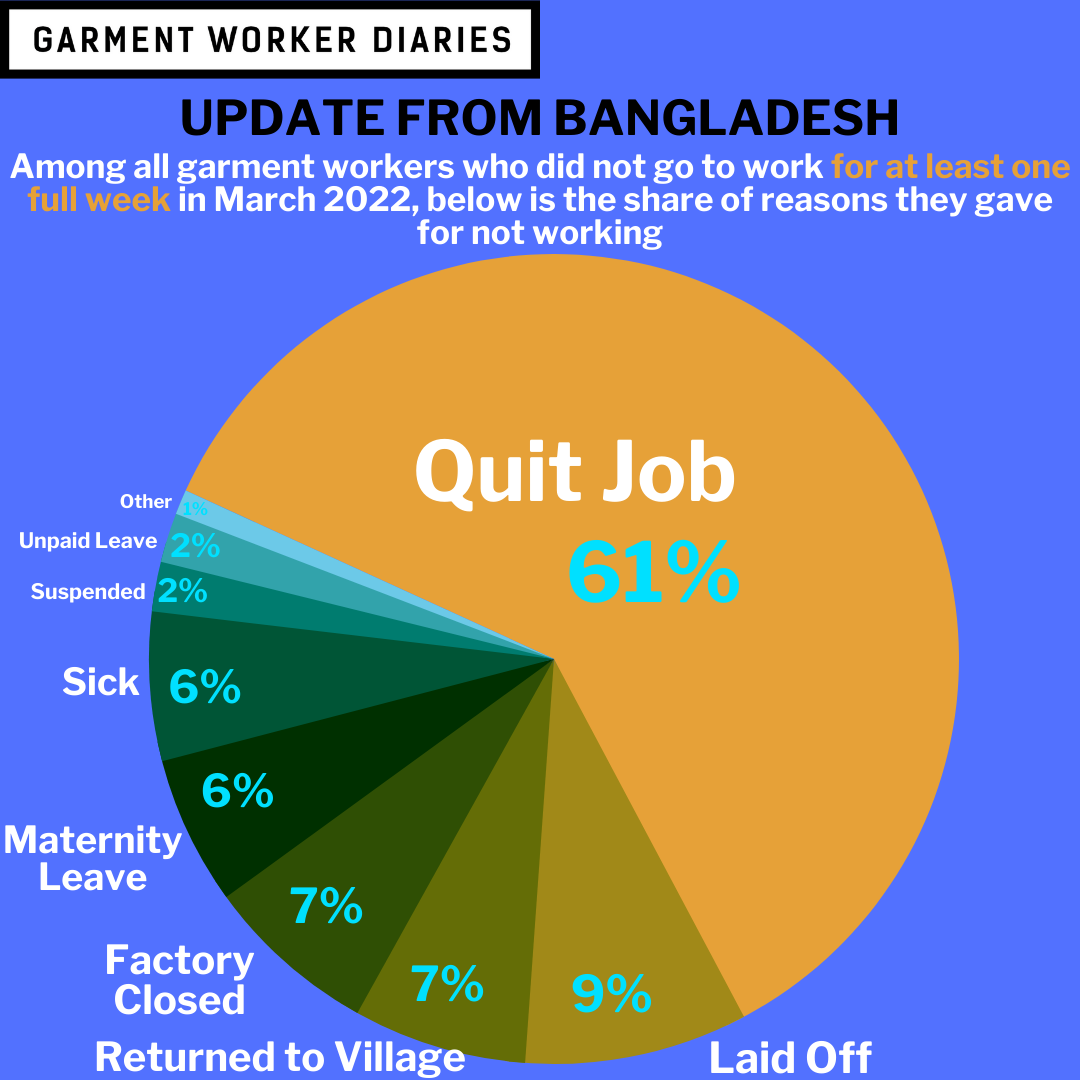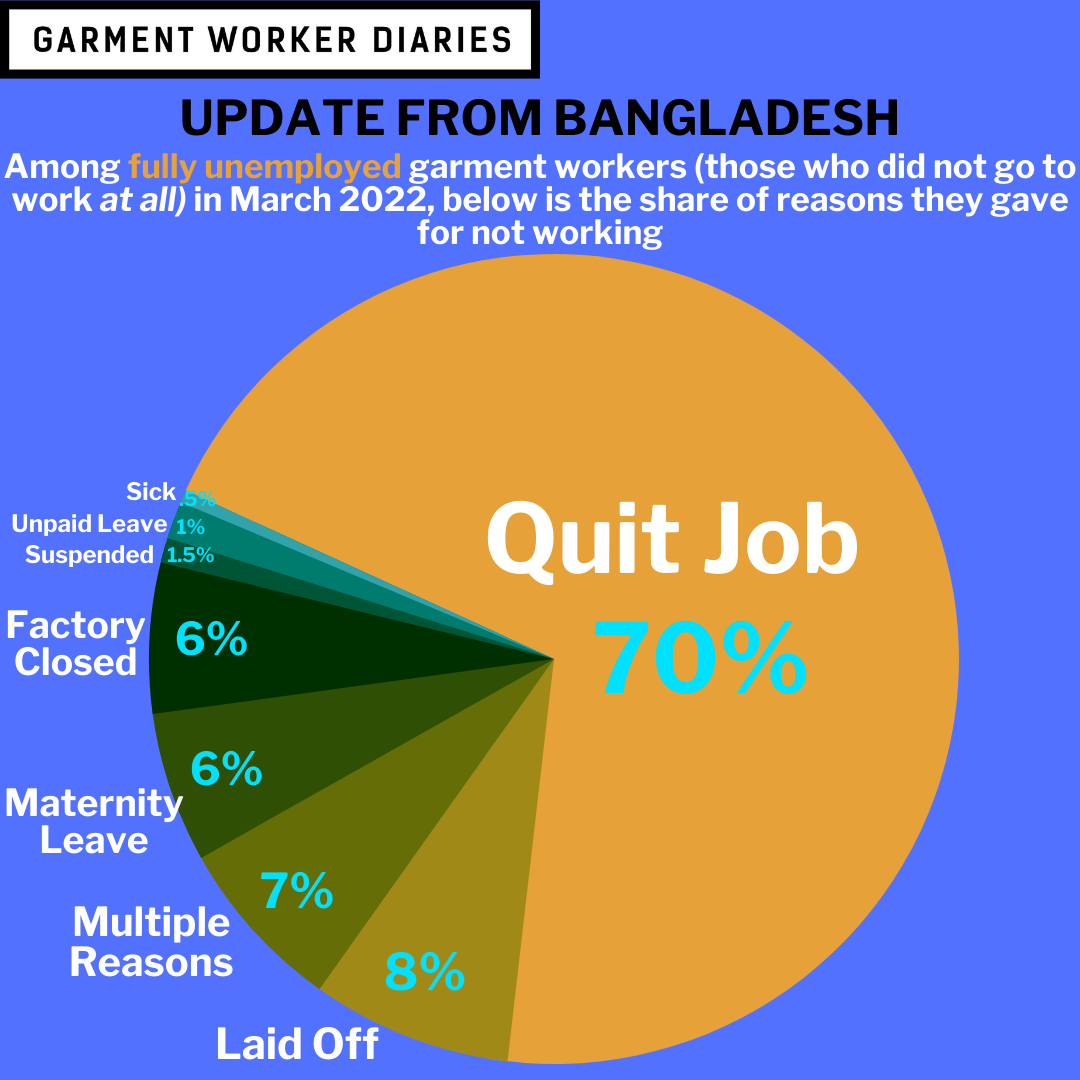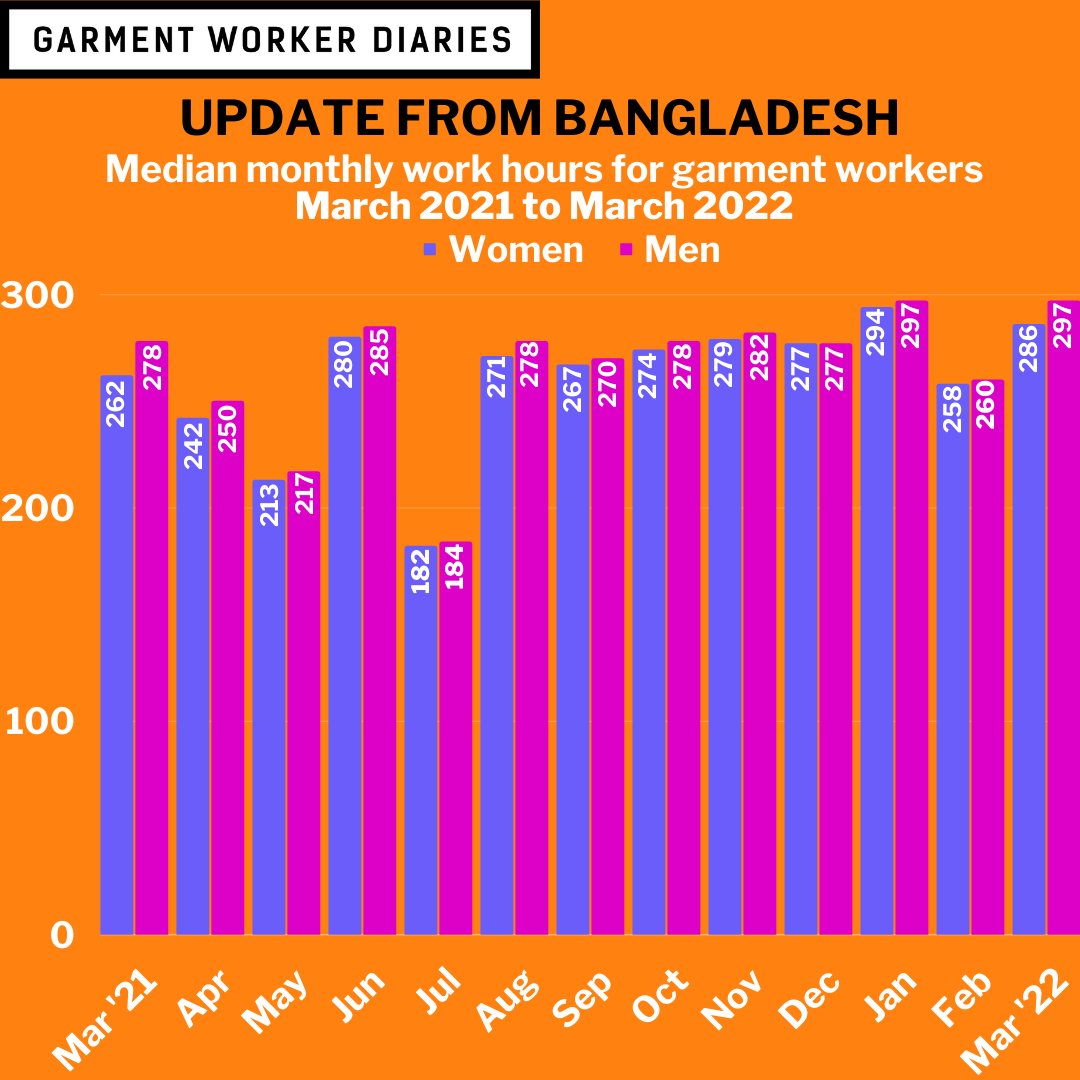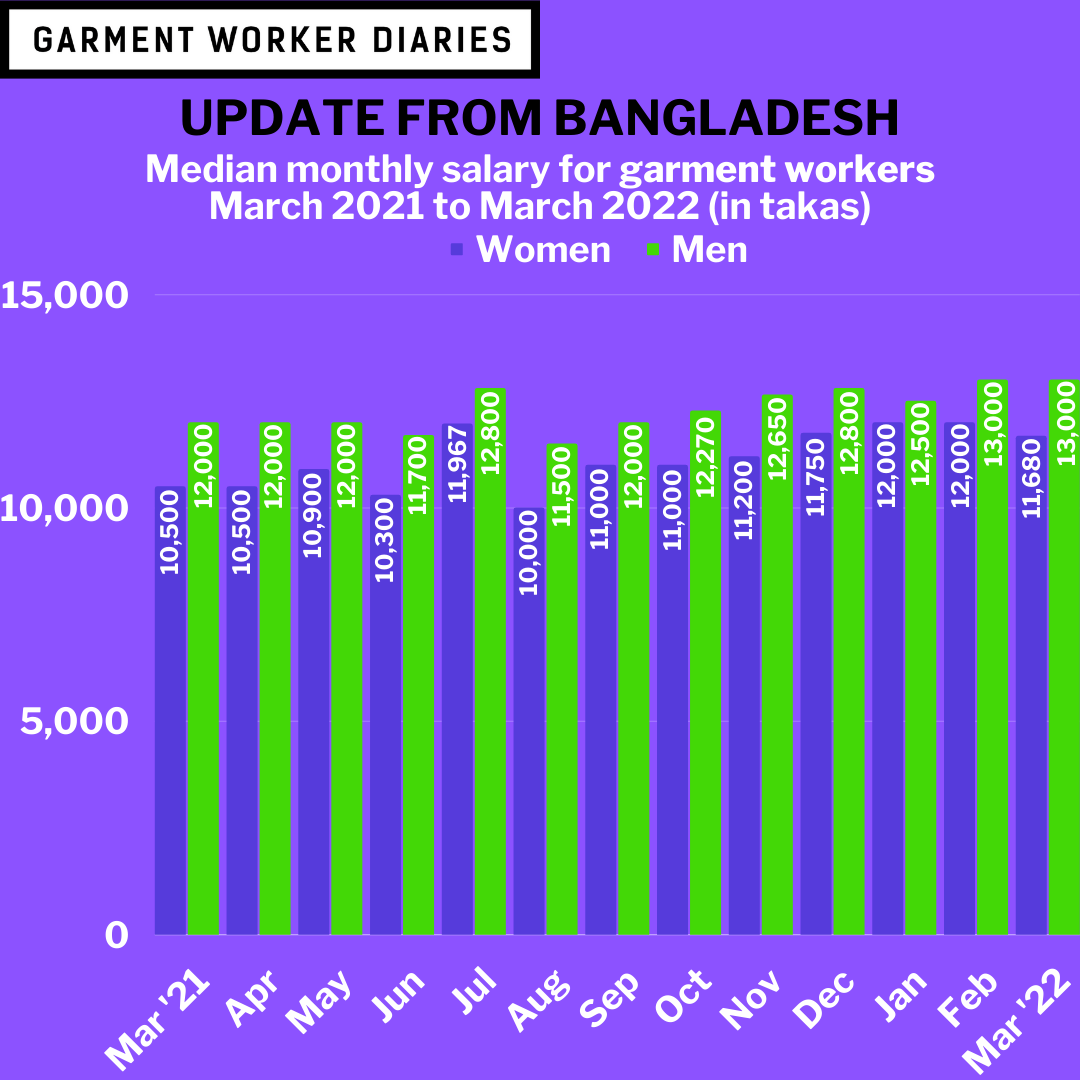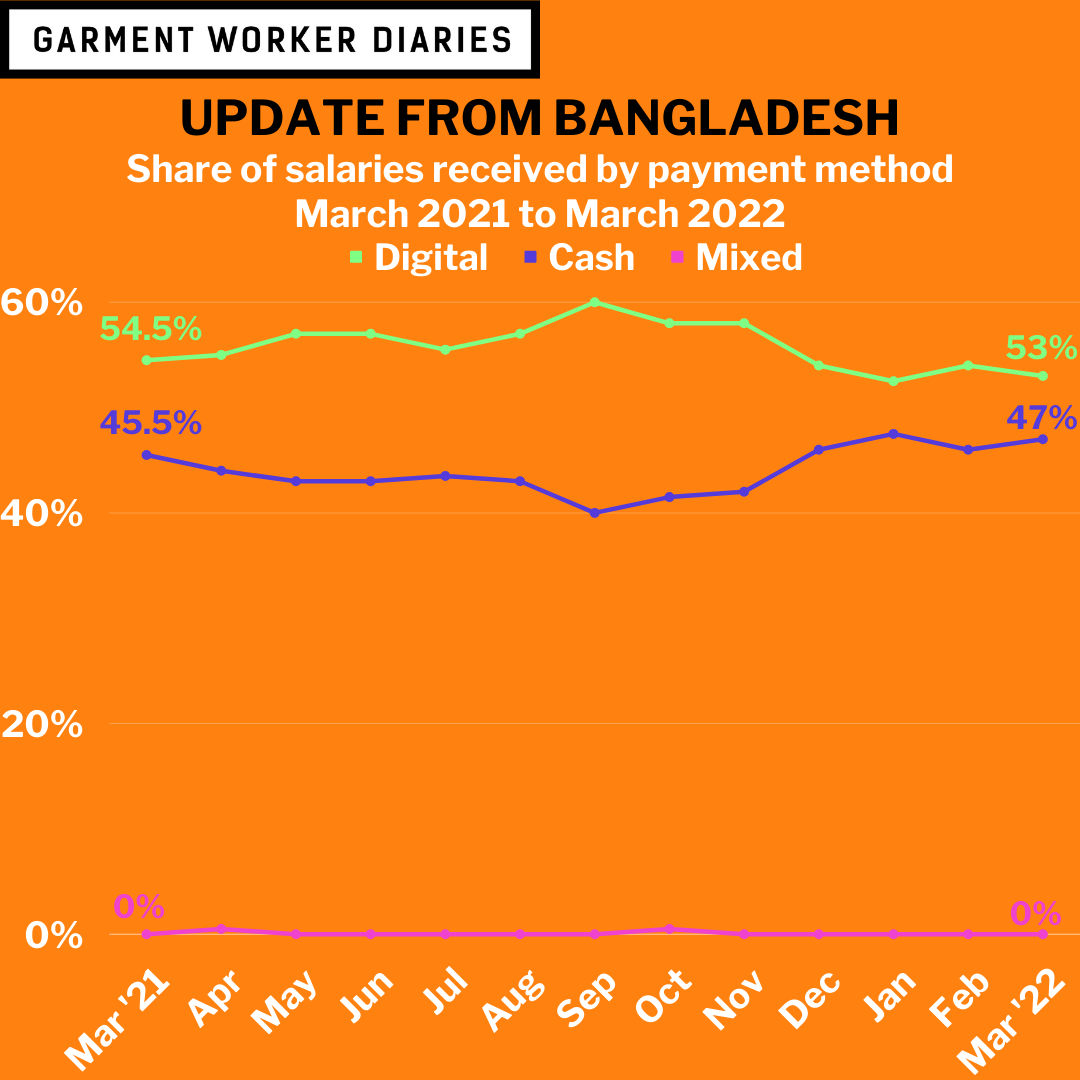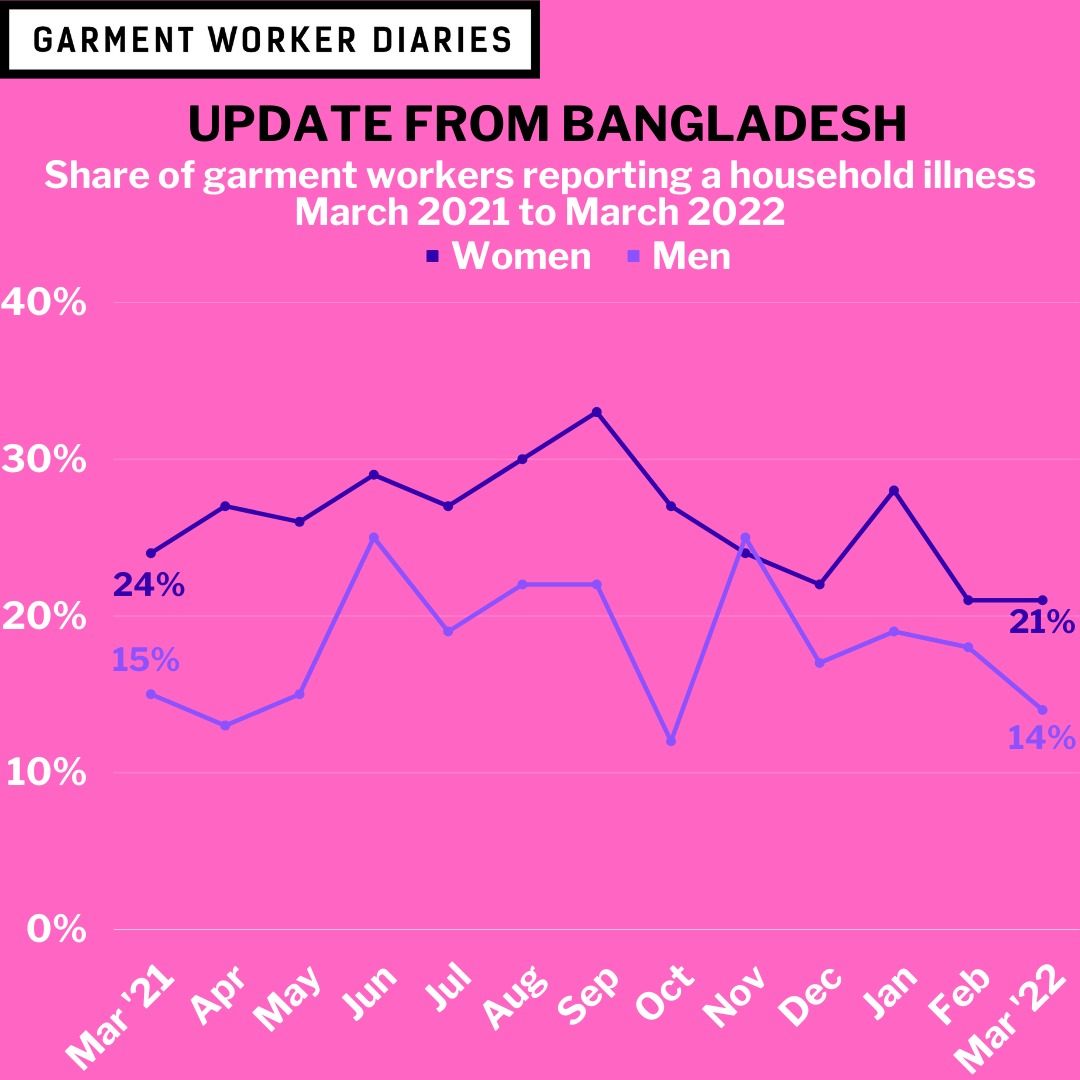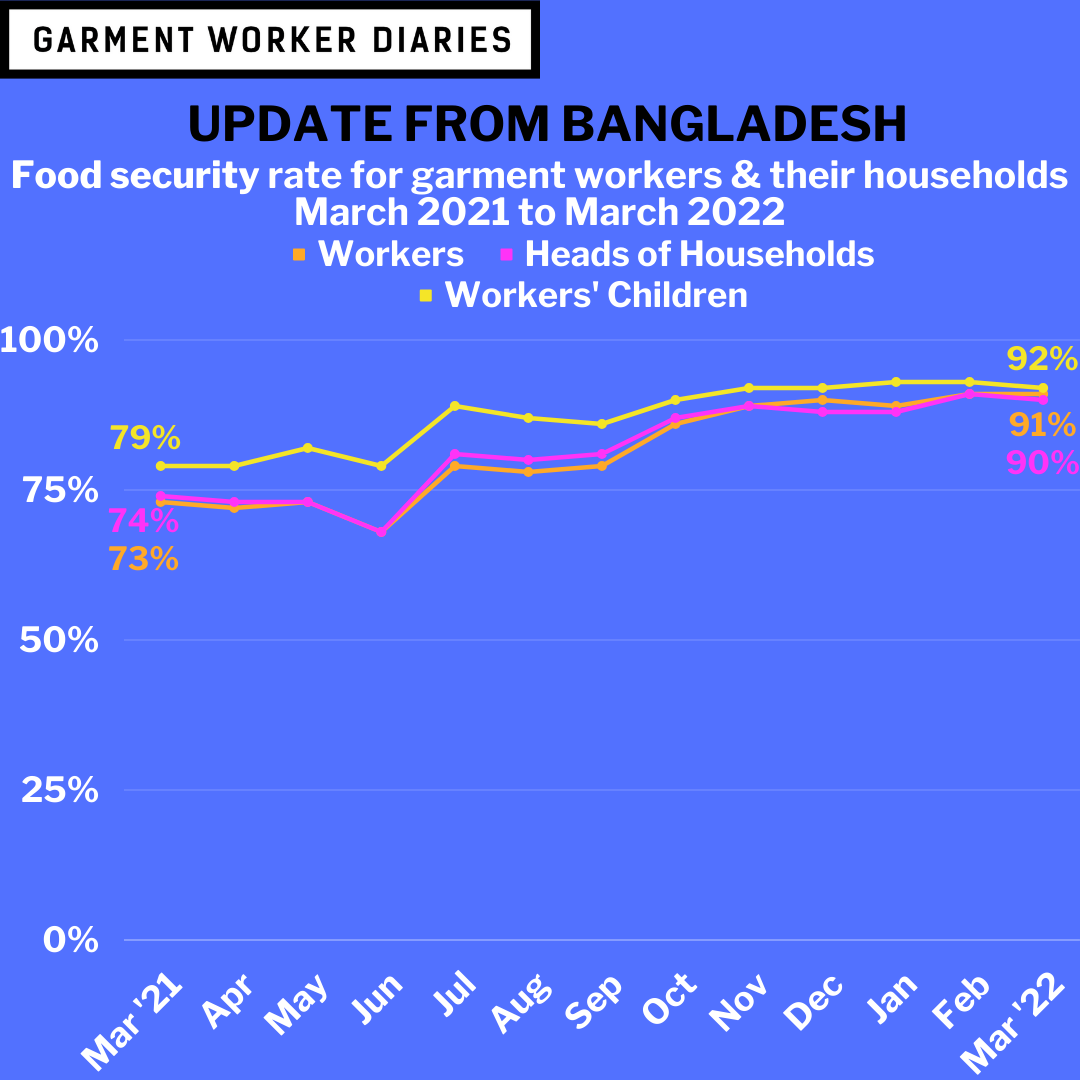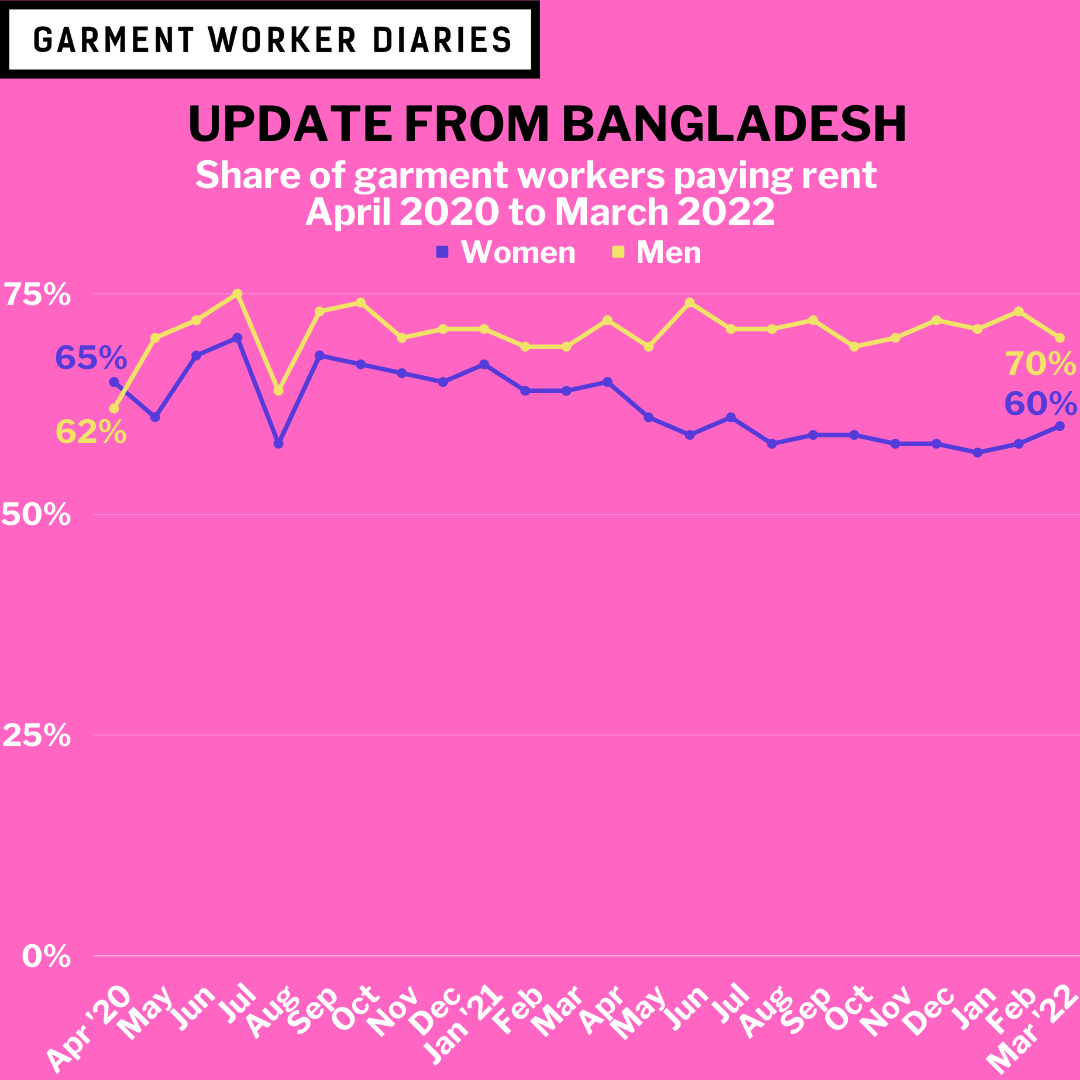 Note: Banner photo courtesy of a garment worker in Bangladesh; numbers in graphs may not sum to 100% due to rounding.
Employment
83% of all garment workers went to work at some point in March 2022 (including 81% of women and 90% of men). Typical work hours were 290 hours for all respondents (including 286 for women and 297 for men) which was higher than what was reported in February and more in line with the hours reported in January.
The legal work hours in a month vary, depending on the number of working days per month. Both January and March this year had 27 working days, meaning the legal limit for hours worked was 297 hours (11 hours per day including a one hour break) whereas February had 24 working days (264 hours). The number of working days could explain the similarity in work hours between the month of March 2022 and January 2022, and all suggest that more than half the men in our sample worked more than the legal limit in March and that a large share (but less than half) of women worked more than the legal limit.
Among respondents who did go to work in March but also missed at least one full week of work or more, the shares of reasons given for not working were very similar to previous months, with having quit one's job reported by 61% of respondents.
Among respondents who were completely unemployed (meaning they did not go to work at all during March), the share of respondents who reported "quit" as the reason for not going to work was 70%, similar to the 71% reported in February. Other reasons for not going to work were in very similar proportions to prior months.
Salary Payments
81% of garment workers (including 79% of women and 88% of men) received a salary payment in March 2022. The median salary received for all respondents was Tk. 12,000. Women reported a median salary of Tk. 11,680 whereas men reported a median salary of Tk. 13,000.
Despite a decrease in work hours in February 2022 compared to January 2022 (259 vs. 295), the median salary payment reported was Tk. 12,000 for both months. Bearing in mind that the work hours reported in March 2022 was in line with that reported in January 2022, it will be interesting to see the wages reported for March 2022 during our next monthly update which will help us confirm the pattern that we are seeing when it comes to wages and work hours.
In terms of method of payment, 53% of the salary payments were digital and 47% were in cash.
Financial Transactions
As expected, the majority of the financial transactions in March 2022 were conducted primarily in cash except for loans received and money transfers sent or received to someone outside of the household. Most of the loans received in March 2022 were from purchases made on credit (42%), meaning there was no monetary exchange, just the "lending" of goods that will be paid for later. Most of the money transfers received from or sent to someone outside of the household were conducted digitally (71% and 55% respectively).
The monthly rent payment gap between women and men narrowed just a bit in March 2022, as 60% of women and 70% of men reported making a rent payment (62% of garment workers overall).
Food Security and Household Illness Update
Food security rates were high in March 2022, similar to what was reported in February 2022, with 91% of workers, 90% of head of households, and 92% of workers' children reported eating enough during the month.
The overall reported household illness rate for the month of March 2022 was 20% (including 21% of women and 14% of men), lower than the 26% reported in January 2022 and in line with the 20% reported in February 2022.
The data are drawn from interviews with about 1,300 workers interviewed weekly from April 2020 to March 2022. The number of worker responses in a particular month varies depending on interview participation rates throughout the month but were never below 1,206 during this period. These workers are employed in factories spread across the five main industrial areas of Bangladesh (Chittagong, Dhaka City, Gazipur, Narayanganj, and Savar). Just over three-quarters of the working respondents are women, roughly representative of workers in the sector as a whole.